SOESD / Technology & Media Services / Computer Information Services / Professional Development / Activboard

Activboard Resources



New! Troubleshooting and Maintenance
If we're expecting our Activboards to be integral parts of our classroom teaching and learning, we've got to make sure they're in good working order. Our Maintenance page will help you stay on top of things!

Background
Activboard wins interactive whiteboard "shootout"
www.eschoolnews.com/news/top-news/index.cfm?i=36656&CFID=243417&CFTOKEN=14835745

Activstudio forums and tutorials
Activstudio is the software you use to run your ActivBoard. There are some good, free tutorials under Professional Development at www.prometheanplanet.com/us. There is also a large treasury of flipcharts for download.

Download a flipchart: (These are .zip files, so you'll need to extract them.)
Each of these flipcharts has a Notes window (hit the N at the top right) with a short explanation. And click here for a .pdf that shows some screenshots with some possible lessons/activities.
Add a (free!) Flash 10-sided Dice roller!
SOESD's programmer-in-residence, Gabe Gilham whipped up this virtual 10-sided dice roller in his spare time. Download the .zip file and extract apps in .hqx, .exe, and .swf (flash) formats. Run the flash app live right here.
Promethean also has a bunch of virtual 8-, 10-, 12-, and 20-sided dice which come as part of its Math Collections Resource Pack which you can download from the Professional Development area at http://www.prometheanplanet.com/ .
Press
Mail Tribune: Educators mull 'digital whiteboards'
www.mailtribune.com/archive/2006/1201/local/stories/
11_30_digtlwhiteboards.htm
Mail Tribune: Who will pay for whiteboards?
www.mailtribune.com/archive/2006/1206/edit/edit.htm
Big Screen, Pen-as-Mouse Resources
Blends for learning phonics
www.pbskids.org/lions/games/gawain.html
Virtual Geoboard—area and perimeter
nlvm.usu.edu/en/nav/frames_asid_282_g_3_t_3.html
Balance Beam Algebra—solving equations
nlvm.usu.edu/en/nav/frames_asid_201_g_4_t_2.html
Maps—zooming, scaling, angles, and directions
www.google.com/maps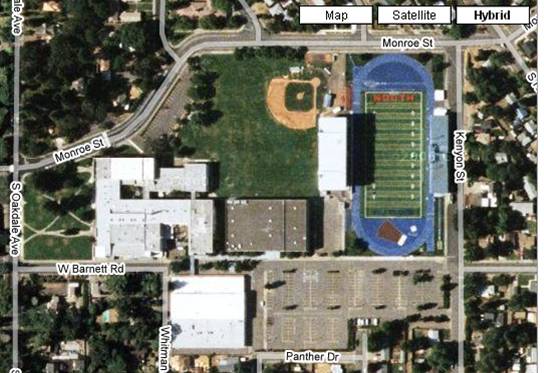 South Medford High School, seen in a Google Maps hybrid view

Maps—foreign and historical www.lib.utexas.edu/maps
Foreign languages—authentic text http://lanic.utexas.edu/la/region/news/indexesp.html
Oregon State Library Information System http://www.oslis.k12.or.us/
Big Screen, Pen-for-Annotation Resources
You can put the transparent flipchart layer over anything you can run or see on your teaching computer and then students (or their teacher) can mark up or annotate salient aspects of the graphics or text. Here are a couple examples:
Dual Monitors? Click here for a how-to.
Schedule an ActivBoard demo or workshop
Get an idea of how you can use a single computer with an interactive whiteboard to teach your subject to a whole class of students. Contact Larry Francis, larry_francis@soesd.k12.or.us or 541.858.6748.