SOESD / Special Education / Audiology / Audiology and Education

Audiology and Education



What is an audiogram? An audiogram is a graph of how someone hears. Audiologists use symbols to depict hearing on a grid. Basic symbols include O's to indicate the air conduction hearing of the right ear; X's to indicate air conduction hearing of the left ear. Air conduction means sounds that are transmitted down the ear canals. This can occur through the use of earphones but we also hear through air conduction when we are listening to speech or environmental sounds. Whenever sound reaches us by traveling down our ear canals we can say that we are hearing by way of air conduction. Audiologists are able to test air conduction thresholds, the softest sounds a person can hear, by transmitting sound electronically through calibrated equipment.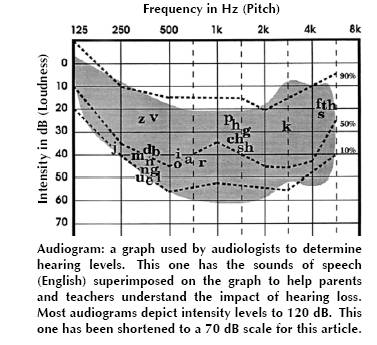 Audiogram with Sounds of Speech


What makes an audiogram significant is where the symbols are placed on the graph. Look at the graph. The numbers along the top of the graph represent the frequencies (pitches) that can be tested. The numbers at the far left side of the top line represent low frequency (fog horn) sounds. The numbers increase in size as one moves to the right and as the pitch increases, all the way up to high frequency (violin) sounds. Numbers ranging down the left hand side of the audiogram from 0 to 120 represent intensity (loudness or hearing levels) in decibels. Think of 0 db as softer than a whisper and 120 dB as close to the threshold of pain. When doing threshold testing an audiologist presents a range of sounds at different loudness levels. When a threshold is found the audiologist marks the spot on the audiogram where both the pitch and loudness came together.

What is the significance of the audiogram? To be considered "within the normal range" of hearing all thresholds (those O's and X's) must be at, or above 15 dB. Look at the audiogram included in this article and draw a horizontal line across the entire graph right where 15 would be on the left hand column of numbers. Notice that the horizontal line lands on the graph near the top and above all the letters that are superimposed on the audiogram. The superimposed letters represent all the sounds of speech. If a person has thresholds at, or above, that 15 dB line then that person has "access" to all the sounds of speech. Having access to all the sounds of speech is essential for learning. One must hear well in order to learn to talk and communicate; to do well in a classroom; to understand sounds that signify danger or pleasure. A child with hearing sensitivity in the –10 to +15 dB range will detect the complete speech signal even at soft conversation levels. However, good hearing does not guarantee good ability to discriminate speech in the presence of background noise.

Next, draw a horizontal line across the audiogram at the 60 dB level. Find the 60 mark on the left hand side and draw straight across. A person with thresholds along the 60 dB line has access to what falls below the line (dogs barking, pianos playing, phones ringing). What is most noticeable is that all the sounds of speech are above the 60 dB line. This person has NO access to sounds of speech without some kind of amplification (most likely hearing aids). Without amplification, conversation must be very loud to be understood. A 55 dB loss can cause a child to miss up to 100% of speech information. A child with this loss will have marked difficulty in school situations requiring verbal communication in both one-to-one and group situations. He/she will likely have delayed language, syntax, reduced speech intelligibility and atonal voice quality.

On any given day, one quarter to one third of kindergarten students are estimated to have a hearing loss. With even a mild hearing loss, at 30 dB, a child can miss 25-40% of the speech signal. The degree of difficulty experienced in school will depend upon the noise level of the classroom, the distance from the teacher and the configuration of the hearing loss.

There are many things that impact hearing thresholds especially in children. The audiologist must determine what kind of a hearing loss a child has. Some hearing loss requires medical attention but if the loss is permanent the requirements vary. Some children will need hearing aids, some may need classroom amplification, and some may require special classrooms designed for children with hearing loss. The audiogram is one tool that the audiologist uses in order to determine the educational impact of hearing loss.

Symptoms of hearing loss in children:
· Inattentiveness
· Failure to react to sudden, loud sounds
· Inability to locate a sound
· Social withdrawl or irritability
· Turning up the volume on the TV or radio
· Failure to turn his or her head towards sounds, especially soft sounds
· Delayed and/or inappropriate speech and language understanding
· Fatigue
· Inability to respond when called from another room
· Family members or teachers report that they have to repeat themselves
· Failure to engage in age-appropriate communication

If you suspect one of your children, or students, has a hearing loss make an appointment with an audiologist to determine if the child is at risk for education or communication difficulties.

Marla Lohr-Flanders, MS, FAAA
Audiologist