SOESD / Newsletters / The Source / May 2005 Source: Paul Rickerson / Assistive Technology: Teacher Training, Computers Talking, and Students Learning

Assistive Technology: Teacher Training, Computers Talking, and Students Learning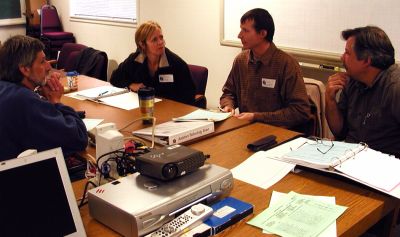 Pictured from the left are Mel Ginsberg, Kate Sullivan, Jeffrey Mann, and Jeff Johnson, teachers from Ashland School District's special education program, discussing new and innovative ways to provide assistive technology to students with special needs.

By Kris Davis, Assistive Technology Specialist
The final training session of a grant awarded to the Assistive Technology Program, from the Gordon Elwood Foundation, occurred in mid-April. The Grant provided eighteen elementary special education teachers in Jackson County an opportunity to increase their knowledge and use of assistive technology. Participating teachers received a set of specialized technology tools to support students with learning disabilities:
Recycled and upgraded computers donated by the U. S. Forest Service.
New color printers.
Clicker 4, a powerful and user-friendly talking/writing support and multimedia tool that enables students to write with whole words, phrases or pictures.
Type to Learn, a proven typing curriculum based on sequential, skills-building instruction.
A variety of other software programs and Internet resources that help students with reading and writing difficulties.
Students with learning disabilities often need software to read back what they have written. Talking word processing software can help students hear their errors and make sure that what they wrote is really what they wanted to say. Computers can also read text aloud to students who are unable to read it for themselves. When technology is used as a reading support, students who have trouble learning to read can get the information they need from their textbooks, worksheets, and from the Internet.
Statewide data indicate that only 1-5% of students with learning disabilities use computer technology in this way. Research on the uses of technology for children with learning disabilities indicates that a much larger number could benefit. One of the best ways to address this problem is to make sure teachers have the tools and training they need in order to understand how computers and specialized software can help their students. The project was designed to increase the ability of elementary special education teachers to offer appropriate technology solutions to their students with learning disabilities.
Each participating teacher attended four full-day training sessions offered collaboratively by the Assistive Technology Program of Southern Oregon ESD and the Oregon Technology Access Program. In addition to training in the operation of the computer and software, teachers received training on how to use computers and software to help their students with learning disabilities read and write more effectively and independently.
The grant had two primary goals. The first goal was to increase the ability of special education teachers to teach their students how to incorporate specialized computer software into their existing educational programs to help them overcome barriers to reading and writing. The second goal was to increase the ability of students with learning disabilities to learn and show what they have learned by using technology designed for their special needs.
Here's what a few teachers said about the training:
"I have incorporated many of the resources into my teaching. They will continue to be utilized well into the future."
"Very valuable information. I like that the training was completed over a variety of sessions. By returning to prior information on follow-up sessions, it was more easily remembered and applied."
"Once the computer was setup and I spent some planning time on the use of it – it was then used continually throughout the day, including before and after school."
At the end of the training, teachers identified individual goals that they want to achieve. The following is a sample of these goals:
Review the Assistive Technology Screening Form with the regular education teachers at a school staff meeting.
Use my newly acquired Assistive Technology knowledge to educate regular education teachers on the use and benefits of Assistive Technology.
Introduce parents to software and websites that promote learning for students with learning disabilities.
Systematically incorporate more Assistive Technology strategies and tools into the student's IEP.
The Gordon Elwood Foundation Grant provided a terrific opportunity for learning about assistive technology, sharing strategies for implementation, and developing a collegial network for support across districts. This is a fantastic group of teachers. It was fun and a real privilege to work with them.