Southern Oregon
Subscribe!

Be notified of news
& updates by email
EDUCATION SERVICE DISTRICT
signup | manage settings


SOESD / Newsletters / The Source / March 2005 Source: Steve Boyarsky, Superintendent / SOESD Media Materials Library

SOESD Media Materials Library

To supplement and enhance classroom teaching, the ESD Materials Library/Resource Center provides a comprehensive collection of over 15,000 video programs, digital video discs (DVDs), models, multimedia kits, software and Starlab (an inflatable, portable planetarium). All of these items are listed in a master catalog, published in 2004. The current collection is searchable on WEBMAX, an online catalog and scheduling system. During the 2003-2004 school year a second Starlab portable planetarium was purchased, along with new videos, DVDs, kits, and computer software. A high priority was placed on replacing 16mm film titles in the DVD format.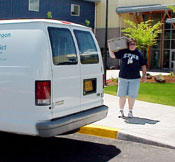 Courier Amy Kelly delivers resources to schools in the familar SOESD white vans.


Materials are delivered via the SOESD courier service, consisting of three vans that visit schools, administration buildings and warehouses, on a daily basis. In addition to library materials, inter-school mail, audio-visual equipment, supplies, student records, and furniture are handled by this service. A subscription video streaming project offered through Southern Oregon ESD is currently available to schools accessible via their computer networks. The ESD has a large computer server that stores all of these video resources. Teachers have access to 1,500 instructional programs through this service. They may view (stream) entire programs or program segments by logging onto a website, or they may download them for future use. All videos are tied to Oregon curriculum standards and are enhanced by lesson plans and other support materials, also available online. Teachers have access to SOESD's entire media collection by completing a written request form, phoning the booking desk, or utilizing the WEBMAX online catalog and scheduling system. Use of WEBMAX has expanded greatly during the past two years. Requested media materials may be retained for a period of three days to three weeks. Every effort is made to accommodate the users' needs. For more information teachers can call 1-800-460-6454 or check Southern Oregon ESD's website at www.soesd.k12.or.us.

























Newsletters - The Source - March 2005 Source: Steve Boyarsky, Superintendent - SOESD Media Materials Library










Medford, OR 97501
Phone: 541-776-8567
Fax: 541-779-2018
Contact: Loraine Stoeckel or Perry Young, Co-Editors of The Source
Email Us
Hours: 8:00 am - 4:30 pm