SOESD / Newsletters / The Source / February 2005 Source: Cynda Rickert / Physical and Occupational Therapists

Physical and Occupational Therapists Use Assistive Technology



By Michael Friedl, Department Chair, Regional Program for Orthopedically Impaired

This fall, SOESD physical and occupational therapists joined forces with Kris Davis, assistive technology specialist, to collaborate on evaluations and interventions in several school districts. Sharing ideas and brainstorming solutions for students who use assistive technology on a regular basis has been very successful. The IEP teams in the local school districts have welcomed the extra input and benefited from the combined viewpoint of these disciplines.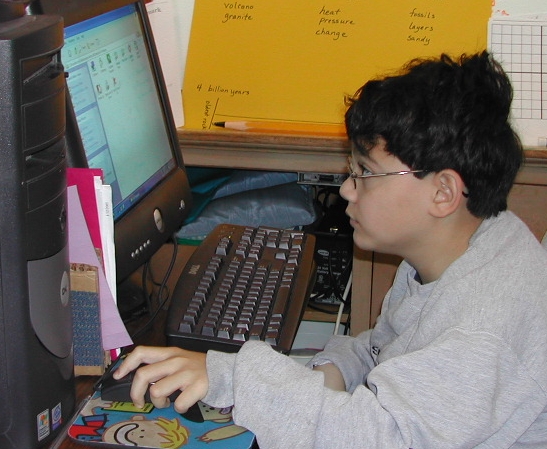 Physical and occupational therapists focus on positioning and adaptations that help a student access a device. Kris has the expertise in the type of devices that are appropriate and the software that can help a student benefit in his/her present education placement.
This transdisciplinary approach is extremely helpful. Since a therapist may see a student who uses assistive technology on a regular basis, the therapist can make recommendations, keep Kris informed of student performance, and discuss changes that may need to occur for greater success.
The Regional and Statewide Services for Students with Orthopedic Impairments (RSOI) has been a valuable resource in the area of assistive technology. Gayle Bowser, program coordinator, has offered on-line courses on the effective implementation of assistive technology. Several of the therapists have completed some of the 10 week courses that are accredited through Portland State University. Collaborating with Kris has been very helpful for completing assignments and selecting class projects.
In addition to our alliance with assistive technology, the Regional Program for the Orthopedically Impaired recently hired two new occupational therapists. Annette Wilrett joined the team in September. She is doing an excellent job serving students in both Klamath County SD and Klamath Falls City Schools. Karen King joined the team in January. With her expertise in neurological dysfunction, she will contribute yet another dimension to our collaborative approach.
By combining the knowledge, skills and experiences of OTs, PTs, and AT, we believe that services to students and districts have been enhanced.