SOESD / Newsletters / The Source / December 2004 Source: Steve Boyarsky / Problem Solving

The Source



The Newsletter of the Southern Oregon Education Service District
December 2004
Problem Solving: the Southern Oregon Math Cadre Takes a stand
A collaborative effort by the Southern Oregon Math Cadre
In a classroom in a small hamlet, somewhere in a rural Oregon school, the following conversation between a teacher and a classroom full of children was overheard: "Class, I have some news to share with you. In Salem a few days ago, a group of adults got together to discuss your math education and how we can tell if you are learning what we hope we are teaching you. The focus of their discussion was on the Math Problem Solving Test that we have you take in 5th, 8th and 10th grades. They were concerned that maybe we weren't asking the questions in the right format for you to really show how well you understand the math you've been taught.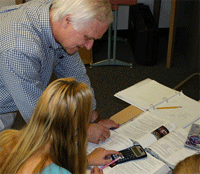 Brent Freeman, SOESD Teacher On Special Assignment


So, they made some decisions. First, they decided for now to stop having the state choose the questions that you are asked and instead let your teacher do that. They also decided to stop telling you what time of the year you had to work on those questions and let your teacher decide that as well. In fact, they said your teacher could decide to let you work on the questions at any time during the school year. And what's more, they said your teacher could give you as many chances as you needed until you were able to be successful. They decided that you just needed to successfully complete two different questions by the end of the school year. So class, what do you think?" Hands flew into the air with a battery of questions and comments ranging from, "Do we really get as many chances as we need?" to "Does this mean problem solving isn't important?" to "That makes me feel a whole lot better; state tests always make me really nervous." And so, the discussion started, and continued as the students and the teacher began to map out a new course.

Hopefully, teachers across our state are initiating similar discussions in an effort to convey to students that the state's decision to suspend the "on demand" Problem Solving Test in no way means that problem solving is any less important. Problem solving has not been removed from the NCTM Standards, nor has it been removed from the Oregon Grade-Level Standards. In fact, it remains an integral part of all mathematics learning. Problem solving continues to reside at the center of all of the math strands. It is the meeting point of skills, applications, and concepts. Problem solving encourages students to engage in tasks for which the solution or strategy towards the solution is not readily obvious. It teaches students the skills necessary for them to get started when they encounter unfamiliar mathematical situations. Problem solving skills help students to make connections between what they know and any new mathematical situations in which they find themselves.

Oregon has been a leader in the attempt to measure problem solving using performance tasks. In developing this type of assessment from the ground up, the field-test process has left teachers and the state struggling at times to achieve consistency from one year's test to the next, making the results not always seem fair to all students. But these frustrations and difficulties do not extend to the classroom level where teachers are able to ask lots of questions during the school year and only require successful completion of two work samples at the CIM level and one at other levels. In this setting, questions of comparable difficulty are more easily attainable and adjustments are easier to make. The key issue here is that the continued use of problem solving work samples plays a major role in the development of a student's math reasoning and communication skills and functions as a truly authentic math assessment. The suspension of Math Problem Solving as a state assessment only increases the need for problem solving work samples at the classroom level. To ignore this need is akin to removing writing from the Language Arts/English classroom. Assessing only a student's ability to come up with correct answers on a multiple-choice test in math is like assessing writing only by means of a multiple-choice test on sentence structure and conventions.

So, how then should we proceed? First and foremost, we continue to express to students the importance of problem solving. We continue to show them that it is an integral part of mathematics. We incorporate a culture of problem solving into our classrooms. We show students that problem solving is not an isolated topic taught as a separate unit, but an approach to the study of mathematics that involves curiosity, exploration, and risk taking. We do this in part by carefully considering our expectations of students. We also do this by carefully considering the types of questions we ask them.

Furthermore, we offer students numerous opportunities to engage in interesting, multi-level questions that require them to apply what they have learned in new and unique ways. We ask them to look at problems from a variety of perspectives. We give them plenty of feedback and in many forms including, but not limited to, multi-dimensional scores such as those given through the Oregon Math Problem Solving Scoring Guide. It is essential that we not abandon problem solving instruction in the absence of a state, "on-demand" assessment.

The implementation of problem solving as a state test in Oregon has done more to effect change in the teaching and learning of mathematics than any other single thing over the past decade. We need to remember this as we move to a model of assessment that may or may not include an "on demand" state test. We need to remember that problem solving is not merely an assessment, but a best practice. This is the starting place from which we should now move forward.

If you would like further information about using the Oregon Math Problem Solving Scoring Guide, teaching problem solving strategies to your students, or developing a culture of problem solving in your classroom, please contact Brent Freeman at Southern Oregon ESD (776-6771, brent_freeman@soesd.k12.or.us). Below is a partial list of resources for learning how to incorporate problem solving in your math curriculum.
Problem Solving Resources
National Council of Teachers of Mathematics, (2000). Principles and Standards for School Mathematics. NCTM Publications.
Moretti, G., Stephens, M., Goodnow, J., & Hoogeboom, S. (1987). The Problem Solver: Activities for Learning Problem-Solving Strategies. Creative Publications.
Burns, Marilyn. (1996). 50 Problem Solving Lessons: Grades 1-6. Math Solutions Publications.
The Oregon Council of Teachers of Mathematics. (journal). The Oregon Mathematics Teacher.(TOMT). OCTM Publications
Van de Walle, John. (2004). Elementary and Middle School Mathematics: Teaching Developmentally. Pearson Education, Inc.
Teacher to Teacher (1999). Oregon Math Performance Tasks: A Resource Kit, Grades 1-8 and 10. Teacher to Teacher Publications
Schaaf, Oscar (Director). (1983). Problem Solving in Mathematics: Grades 4-9. Dale Seymour Publications.
Online math resources: http://www.octm.org/ and http://www.ode.state.or.us/
Schaaf, Oscar (Director). (1983). Problem Solving in Mathematics: In-Service Guide. Dale Seymour Publications.
Please send comments, suggestions, and additions to brent_freeman@soesd.k12.or.us