Southern Oregon
Subscribe!

Be notified of news
& updates by email
EDUCATION SERVICE DISTRICT
signup | manage settings


SOESD / Technology & Media Services / Media Materials Library / 48/48 Video Challenge

48/48 Video Challenge for Southern Oregon High School Students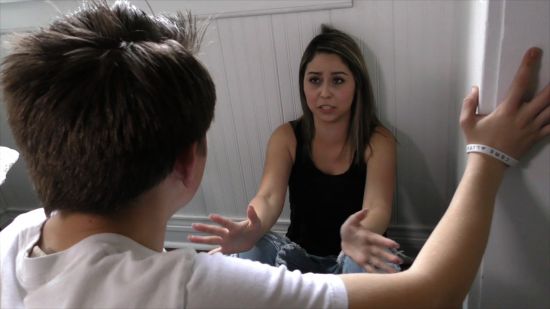 Still from KU student short "48 Hours"


A 13-minute short film created in Klamath Falls has won the 9th Annual 48/48 Video Challenge for Southern Oregon High School Students. Produced by Klamath Union High School seniors Matthew Limb and Yulissa Garcia-Serrato, the film was rated highest among 20 other films from nine schools in Jackson and Klamath counties. The film aptly titled 48 Hours follows a young woman, Emma as she is being haunted by an unknown spirit. Rosallie Sanchez, also a senior at KU, portrayed Emma in the film. Her performance garnered her one of two acting awards presented this year in the competition.

The comedy Tennis Anyone? by Ashland High School student Berkeley Skuratowicz took second place and the science fiction tale Everton directed by Halena Hall of Phoenix High School was third. Other individual award winners were sophomore Destin Bourdon for best screenplay (Time Travel) and senior Trevor Ullrich for best actor (Everton). Both attend Phoenix High School.

The 48/48 Video Challenge requires that students create a short film in 48 days after having been given the genre and a list of required lines of dialogue, characters and props that must be included in the film. Judging is done by film and television industry professionals primarily from outside Southern Oregon which this year included Scott Chestnut, editor of Joy Ride (Paul Walker) and Unthinkable (Samuel L. Jackson). Winners will receive their trophies at private ceremonies at their individual schools.

This is Klamath Unionís first win in the competition. The school took second place last year with Sam Shade, a film noir parody. This year marked the film time Ashland High School ranked in the top three. The 48/48 Video Challenge is coordinated by the Media Materials Library at Southern Oregon Education Service District.


---
---

For more information about the 48/48 Video Challenge, contact:
Ray Robison
Southern Oregon ESD Media Library
ray_robison@soesd.k12.or.us
541-776-8560

Previous winners:
2016: Moonbeam Delight: Jerry's Story / Crater Renaissance Academy
2015: The List / North Medford High School
2014: The Last Dance / Phoenix High School
2013: No event held
2012: The Beneficiary / Phoenix High School
2011: Lakeview / Phoenix High School
2010: Lame / Crater High School
2009: Heels over Head / Phoenix High School
2008: ​Pink Lemonade and Murder / Phoenix High School

























Technology & Media Services - Media Materials Library - 48/48 Video Challenge










101 N. Grape Street
Medford, OR 97501
Phone: 541-776.8560/800.460.6454
Email Us
Hours: 7:30am-4:30pm Mon-Fri