SOESD / Technology & Media Services / Computer Information Services / Professional Development / Microsoft Office

Microsoft Office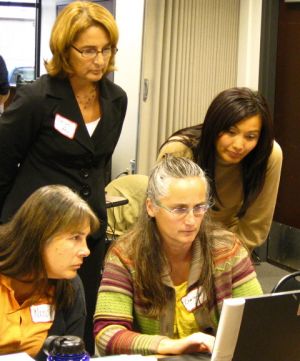 Klamath Falls staff pouring over data in Excel

There are so many things you can do in Microsoft Office: mix text and graphics—making your own, including digital photos, or free clip art; edit your graphics and megapixel photos for Word, PowerPoint, Excel—even for the web!
You and your students can work with numbers and data in calculations, charts, graphs, and tables; show what you know in slideshows and presentations—include audio and video clips, links to documents and websites and even animate your slides to build an understanding of concepts and processes.
You can use Microsoft Office applications—Word, PowerPoint, and Excel to tune your instruction to fit your students' strengths and personalities and also to support weaknesses or deficits. With Microsoft Office applications you can produce professional-quality documents and presentations that get ideas across clearly and vividly.
You can email what you create to individuals and you can organize those individual contacts into address books and mailing lists and share those with colleagues. You can schedule appointments and meetings, share calendars, allocate resources, create task lists and notes, and on and on....
Use the navigation bar on the right to link to handouts from our Microsoft Office workshops. Schedule a customized training session at your school or department by calling SOESD Computer Information Services 541-858-6730 or email support@soesd.k12.or.us.