SOESD / Technology & Media Services / Computer Information Services / Professional Development / PowerPoint / PowerPoint Intro

PowerPoint Intro

Today in PowerPoint we will:
Create a new powerpoint presentation
Format the background
Create a multi-slide presentation
Explore the "views" in PowerPoint
Add text and graphics to a slide
Add transitions to your presentation
I. Start a New PowerPoint Presentation
Note: There are several different versions of PowerPoint installed on computers in our service area. The focus of this workshop is to teach the basic skills required to function on whatever version is installed on your computer. If the screen shots appear different, look for commonalities rather than giving up.
Open Microsoft PowerPoint from the Start button (assuming you're working in Windows)
Click on the FILE menu and select NEW (blank presentation)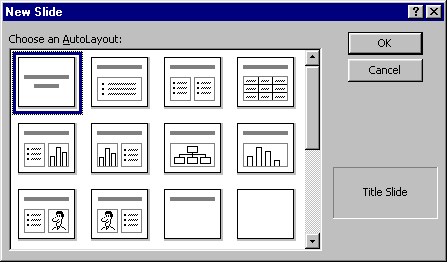 II. Add Slides
Choose title slide, click where it says "Click to add title," and type "All About Me" in the title box and "By FirstName Lastname" in the subtitle box.
Use the Save As in the File menu to save your presentation as AllAaboutMeXX (XX stands for your initials).
Insert 3 more blank slides (Insert Menu) or by clicking the "Add Slide" button on the button bar
Choose blank slide from the New Slide dialogue box.
Applying a Background

Because we selected a "blank" presentation, you'll probably want to add a background to your presentation. If you wish, you may customize each slide in your presentation. Choose Format > Background. From the drop-down list you can choose one of the "automatic" colors that come with the current design template, choose More Colors for a wider choice, or choose Fill Effects to create a background from a gradient, texture, or picture.

III. PowerPoint has five views:

PowerPoint gives you four views in which you create and organize your presentation. As you create a presentation, you can switch among the four views as you work. The five PowerPoint views are:
| | |
| --- | --- |
| Slide View | The Slide view shows a single slide. In Slide view, you work on one slide at at time. Here, you can type your slide title and body, add other text to the slide, draw shapes, add clip art, choose a color scheme, make a graph, etc. |
| Outline | The Outline view shows all the titles and body text in your presentation. In Outline view, you can move slides around within your presentation and also edit your text. |
| Slide Sorter | The Slide Sorter view shows you a miniature of each slide in your presentation. You can drag slides around on the screen to reposition them in this view. You can also select and copy multiple slides should you want to use them in other presentations. |
| Notes | The Notes Pages view allows you to attach comments to one or many slides to guide you through your presentation. |
| Slide Show | The Slide Show button runs a slide show starting from the currently selected slide. |
IV. Adding text to your slide
In slide view, click on the Insert menu (If you have a text box placeholder already on your slide you can simply click inside the box and begin typing) and select text box. Your cursor will turn into a cross bar that allows you to define the text box area. (Your text box will expand as you begin typing.)
Press and drag the mouse to define your text area and click inside the box to begin typing.
You can change the format of the font with all the same word processing tools that you have in Word.
When you are finished typing, click outside the text box.
You can move and resize the text box by clicking on it and using the corner handles to resize and the four-way arrow to move.
To add text from a word processing file, from the slide view, click the Insert menu and select Object. ( You can also Copy and Paste from Word or any other Office application into PowerPoint)
Select Word Document as type of object and find the document you want to insert.
V. Adding graphics to your slide (visit Clipart ETC at Florida Educational Technology Clearinghouse and grab something or insert something from Office's built-in collection)
In slide view, pull down the Insert Menu > Picture
To add clip art, slide over to "Clip art" and the collection installed with Office will open and you can choose your graphic.

Note: If you have a graphic placeholder in your slide, simply double-click inside the placeholder, locate the clip art you want, and insert the graphic. It'll even resize your graphic for you.

To add a graphic from a file, slide over to "From File" and navigate to where the file is on your computer. Click once on the file you want and click Insert.
Once the graphic is on your slide, it doesn't matter whether it is from clip art, a file or copied from the Internet, you can use the picture toolbar to resize, wrap text. If you don't have the picture toolbar on your screen, go to the View menu, select toolbars and click once on Picture. The toolbar will pop up on your screen.
Note: if you're getting graphics from the Internet, here's a tutorial reminding you how to save them to your computer (both Mac & Windows).
VI. Transitions: special effects to embellish your slideshow
Click on the slide sorter view.
Select the first slide.
Pull down the SlideShow Menu and click on slide transitions.
You can preview the different transitions by selecting them from the drop down menu and adjusting the speed with the radio buttons.
Select whether you want the slides to change on the click of your mouse (you run the slides) or automatically after a certain number of seconds.
You may also choose to have a sound play as the slides transition. (This can be distracting if it competes with your presentation.)
Finally, choose APPLY or APPLY TO ALL in the transition box. I recommend applying the same transitions to all slides in your show to create a continuity to your presentation.
Check out www.mum.edu/helpdesk/tutorials/powerpoint-tut.html for a nice series of PowerPoint overviews.