SOESD / Learning Matters / Newsletter Archive / June 2008 / Hargrove Competes in National Pageant

Hargrove Competes in National Pageant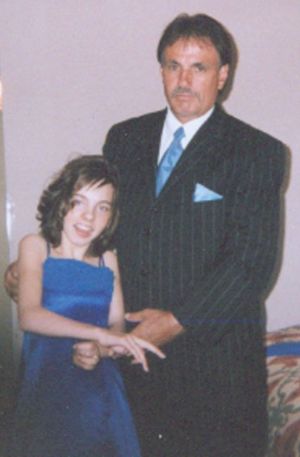 Kelsey Hargrove and her dad

by Annie Goldsmith, Henley High School,
Managing Editor, Hornets' Buzz (republished with permission from The Hornets' Buzz)
Last summer, STEPS student sophomore Kelsey Hargrove participated in the National American Miss competition in the Miss Oregon Junior Teen Pageant. As a state finalist in the pageant, she earned scores in the "above average" range in all categories, and was invited to compete again.
Hargrove has disabilities with movement and speech. She uses a powered wheelchair for mobility, and she uses a device called a Dynavox System to communicate with others. This annual National American Miss competition is divided into five age groups. Hargrove's age at the time placed her in the Junior Teen category.
She competed against girls from all over Oregon in four different categories: interview, personal introduction (on stage), formal wear, and community involvement. For the community involvement category, every girl donated a stuffed animal or book to a fire department or police station to help firefighters and police officers when they deal with children.
During the interview, Hargrove was asked a series of questions which she answered using her Dynavox. The Dynavox System has a touch screen with words, pictures, and phrases on it. To use it, she touches the button depicting what she wants to say. The Dynavox also has a speaker which verbalizes whatever buttons Hargrove touches. Her parents downloaded a special pageant category into the memory chip so that she could answer the questions.

She was asked things like what words best describe her, what she looks for in a friend, and what she wants to be when she grows up. She was also asked what the most significant problem facing kids her age, to which she responded "making wise choices." For the personal introduction category, participants went on stage in business attire and introduced themselves. Hargrove used her Dynavox to give her introduction. "My ambition is to go into law enforcement so I can help others in need," she said during her introduction.
Hargrove's favorite part of the pageant was the formal wear section. She enjoyed wearing her sparkling blue dress and she loved it when her dad escorted her on stage. Hargrove and her family raised the money to compete through donations from the community. She and her family are very grateful for the support opportunity the community gave her. She also hopes to compete in this year's competition this Memorial Day. If she wins this year, she'll move on to Nationals to compete for the national title.