SOESD / School Improvement Services / News

Schools begin the eCIP process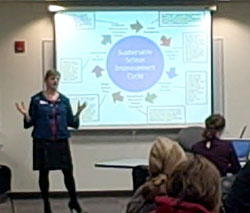 eCIP workshop participants see the big picture


During the last two weeks, school districts in Southern Oregon have begun the process of evaluating their current student achievement data and determining new goals for the coming biennium. All of SOESD's constituent districts will submit an electronic Continuous Improvement Plan (eCIP) by September 2010, which must be approved by Oregon Department of Education.

The goals of SOESD's School Improvement Team are to assist districts in completing their plans and to be an active partner in the effective implementation of the plans over the next two years. Toward these goals, the ESD has been working to streamline the process, to supply structure and resources to complete the work, and to provide individual consultation to districts as requested. Each district is required to analyze data in all core subject areas, to determine their status in regards to CIP goals submitted in 2007, and to examine their districts' current strengths and needs. During the development of their plan, districts prioritize needs, identify research-based practices to increase student achievement, set SMART goals, and create an action plan to drive their work through 2012.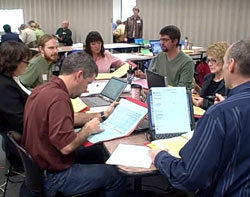 Drilling down into the data


Ten of the thirteen districts within the SOESD area attended the first session and feedback indicated that districts were pleased with the level of ESD support. Feedback received included comments such as, "The tools and tips were really helpful, and it was a nice opportunity to see that other districts are struggling with similar issues. We may be able to connect and be more efficient in finding solutions." The ESD will facilitate monthly meetings through April to help them prepare to submit completed plans in September. The future work of SOESD's School Improvement Team will be closely aligned with the goals set in these finished CIP plans.

For more information, contact Kathy Helgeson at (541) 245-4629.