SOESD / School Improvement Services / News

Teaching American History grant offered again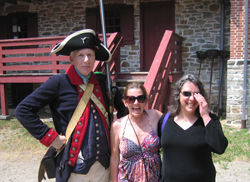 Teachers Gail K. and Stephanie B. get historical


Joe Peterson, current project director of a federal Teaching American History grant involving 45 teachers from around the region, is preparing for a new round of competition to provide in-service for up to 100 teachers in grades 4 through 12 from Jackson, Josephine, and Klamath counties.

If successful, the grant will enable SOESD to offer educators both quarterly in-service sessions plus summer study trips to Philadelphia, Brandywine, Gettysburg, New York City, and Washington, D.C. The Teaching American History grants are awarded by the U.S. Department of Education for three years and pay for both the summer travel and the workshops.

SOESD has successfully competed for and received two previous American History grants. If funds are awarded, SOESD will be recruiting educators from its 13 component districts to participate in the training beginning in the fall of 2010.