SOESD / School Improvement Services / News

Migrant education winter outreach



Thanks to the Ashland Food Co-op, SOESD staff donations, and community volunteers, 110 migrant families were able to receive some type of food assistance, which for many meant they did not have to go hungry over the winter break.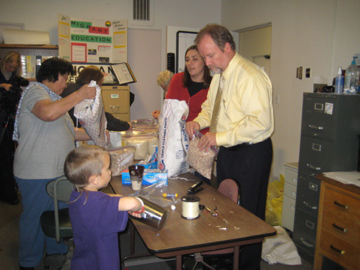 Superintendent Perry helps volunteers

Migrant Education received a grant from the Ashland Food Co-op for $1,500 to be used to help feed families with the most pressing need. It was determined that this money could go the furthest if it was used to purchase bulk beans and rice. A team of volunteers divided up and prepared the large order for distribution, and Migrant Education staff made deliveries. This outreach provided basic nutrition to 85 families and 219 children.
In addition to the beans and rice, generous donations from SOESD staff provided 25 families with $25 or $50 food cards. Families have expressed their sincere thanks and send blessings to all those who made this possible.
The community's generosity to migrant students and families is not limited to seasonal outreach. Volunteers provide hundreds of hours of educational support to migrant students and families throughout the year.