SOESD / School Improvement Services / News

Klamath Falls City Schools receives technology grant



In the spring of 2009, Klamath Falls City School District applied for and received a $269,000 Title IId grant that is providing equipment, software, materials, and professional development to improve learning at Mills Elementary School. The grant primarily targets the improvement of student writing, which has been identified by research as a common element in high-achieving schools.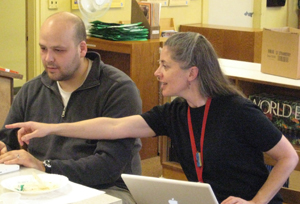 Klamath Falls City teachers explore technology

Laptops, software, LCD projectors, student response systems, document cameras, and interactive whiteboards have been purchased. Teachers are receiving professional development in project-based learning, differentiation of instruction, integration of technology into curriculum, and data collection and analysis. Students in fourth, fifth and sixth grades will use these technologies to collaborate on project-based learning assignments where writing and technology skills will be learned and applied.
According to project director Nancy Warrington, this grant is providing a springboard to integration of technology into classrooms throughout the district with the goal of improving academic achievement. Klamath Falls City School District is the first in the state to roll out the newly-mandated technology testing for 8th graders and staff members. These efforts also support Klamath's plans to become a district made up of model classrooms visited by educators throughout the state of Oregon.