Southern Oregon
Subscribe!

Be notified of news
& updates by email
EDUCATION SERVICE DISTRICT
signup | manage settings


SOESD / School Improvement Services / News

Lorna Byrne Students Win State, Travel to Nationals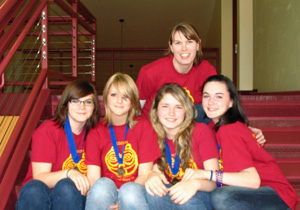 Students win National History Day honor


A team of four 8th grade students from Lorna Byrne Middle School in Cave Junction have won the honor of traveling to Washington, DC, in June to compete in the National History Day project. The four girls, Alex Manninen, Elizabeth Jenkins, Kelly Armijo, and Natane Stewart, collaborated on creating a website describing the legacy that Shakespeare's plays left for posterity.

The students, who had never created a website before, were coached by LBMS social studies teacher Lacey Fox and SOESD online learning specialist Virginia Petitt, in cooperation with other teachers and staff at the school. For two of the students, this is a repeat performance; they earned their way to Nationals in 2008 by creating a display board project on Women's Rights. The students hope to raise money for the cost of traveling to the national competition in June by holding a number of fundraising events.



























Lorna Byrne Students Win State, Travel to Nationals










101 North Grape Street
Medford, OR 97501
Phone: 776.8590 or 800.636.7450
Fax: 541.779.2018
Email Us
Hours: 7:30 - 4:30 Mon - Fri