SOESD / School Improvement Services / News

Merrill Wins State Award—Again!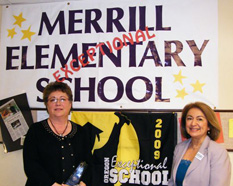 Principal Larita Ongman meets with Susan Castillo


Tuesday, April 17, State Schools Superintendent Susan Castillo visited Merrill Elementary School in Klamath County. Castillo visited Merrill to pay tribute to the school for receiving the Celebrating Student Success award for the second year in a row. This award is presented to select schools throughout Oregon where students perform and achieve at an exceptionally high level.

"These schools all demonstrate the incredible power of strong leadership, quality instruction, and high expectations for all students," Superintendent Castillo said. "These schools all face the challenges of poverty, changing demographics, and students who enter their schools from a range of cultural and language backgrounds – and yet, all of these schools are showing that progress can be made. We can and will close the achievement gap in Oregon. If we keep focused on that goal, we can ensure that all of our students can achieve success at school."

Here's how the Oregon Department of Education news release described the selection process: "Selected schools made it through a data screen that identified schools where student subpopulations... made significant progress compared to the comparison groups.... Student cohorts were analyzed using data from 2004-05 through 2007-08. A team reviewed the data and examined both school to state comparisons and within school comparisons. Statewide report card and AYP data was also analyzed. Schools demonstrating the strongest subpopulation growth (and hence the most progress in closing the achievement gap) were invited to submit an application for further review. A Blue Ribbon Panel composed of educators, business leaders, and community members reviewed the data and the applications and made recommendations to Superintendent Castillo."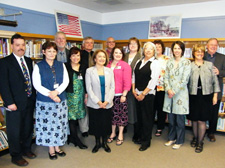 The school community celebrates Merrill's award


At Merrill Elementary's weekly coffee talk, hosted by Principal Larita Ongman, Superintendent Castillo met with school and district administrators, toured the school, and praised its commitment to teaching and learning. Members of student leadership greeted visitors and presented them with gifts of local produce. Parents, community members, and SOESD staff were also on hand to recognize and honor Merrill Elementary's continuing success.

"Everybody has asked, 'How did you do this?'" said Principal Ongman. "How could other schools do this? Susan Castillo wants the winning schools to share with other schools how we won (90-minute blocks of reading, double-dosing, ELL). Other schools are doing all those things. I called the other winning schools and asked them:

"The one thing we all agree on is the staff: they really focus on every child. They go an extra mile; they work together as a team. Even our 1st and 2nd grade teachers, who do not test yet, know they're just as much a part of the team as the other teachers who do test. One other thing on the teachers: they are constantly learning themselves... The teachers are the ones who convince the kids that they have the ability to do this, that they have the knowledge to meet or exceed on these tests.

"I think the programs are important. [But] the winning schools all use different programs. You have to have a good program, but you don't have to have the same program. It all comes back to the teachers."